SS Style Tip 101: A well-dressed mind is the prerequisite to any OOTD. 
I've been investing time in one of my first loves recently, reading ❤ Since 3yo it's been one of my favourite past times (to the point that my nursery had to re-stock our bookshelf, lols). Thought I would share a few of the books I've finished/am in the midst of and would absolutely love you to share yours with me too. Here's to the start of our virtual book club… tchin tchin!
Most of the below are actually non-fiction books which is something I've got more into over the past few years (since finishing my crazy book-heavy degree), I do love the immersiveness of fiction but I've found so many incredible books written by people I admire coming out of late that I had to purchase. My tastes are pretty varied, I enjoy the most trashy young adult novel as much as Proust en français, not about book snobbery! Books can be entertaining, educational and escapist so you just do you. I know not everyone loves to read, but in this day and age of instant gratification and endless gazing at blue-lit screens, it can be unbelievably refreshing to get into a good, old-fashioned paper and ink book, so I encourage you to try it at least once, meanwhile fellow bookworms, let's keep on keeping on. I've linked where to buy below each book.
1. Crazy Rich Asians, by Kevin Kwan
As hilarious as the title suggests, this book is fun and unapologetically frivolous. The majority of it spans the social strata of wealthy Singapore, a love triangle and an ABC (American-born Chinese) girl who is thrown into the midst of these crazy rich Asians. Highly recommended and highly enjoyable, also pretty educational for someone who may not come from an Asian background to understand more about the history, economy and society of Southeast Asia generally, as well as learn your nasi lemak from your nasi goreng. It's currently being made into a Hollywood movie (praise the Lord for representation beyond 'tech geek' and 'subdued friend' at long last) so read it before it comes out–always the best way!
On Amazon: Crazy Rich Asians
2. Option B, by Sheryl Sandberg and Adam Grant
I am a huge fan of Sheryl Sandberg and her first book, Lean In. I was obsessed to the point of incorporating it into two of my university final essays despite it not being on the syllabus (poor Prof. Shapiro). It is an incredible book for both men and women to read. I get the criticisms of it also, but it doesn't override the overall impact and gold that is found within its pages. I was so devastated for Sheryl upon hearing that her husband Dave had passed away in a tragic accident a few years ago. Option B is a book based upon the journey of grief she is on since his death and has highly practical and in-depth research on how to create not only post-traumatic growth but pre-traumatic growth. It explores how resilience is a psychological tool we can develop in a lot of life's struggles ranging from abuse, sexual assault, grief, divorce and more. There is a lot of her human story in this too which only serves to drive home all the practical advice and theory more. I highly recommend this for anyone who has themselves experienced grief or has a good friend or partner to support in it. It is written as much for those who are in the thick of it as well as those who are supporting them and a part of their community.
Option B: Facing Adversity, Building Resilience, and Finding Joy
3. The Wait, by DeVon Franklin and Meagan Good
So yes, this book deals in some way with sex and relationships, more specifically putting the physical on the back burner in favour of prioritising spiritual, emotional, mental and intellectual compatibility first (yep, virtually a taboo/seen as a disempowering subject in my generation). However the book is actually a really good read for sceptics, it details the couple's journey and experience and speaks to women and men in the modern, heterosexual dating game today. I love hearing Devon's experiences as a man, especially a successful Hollywood producer who in some ways embodies what has traditionally been seen as masculine, and his opining and revelation on sex and its role within a relationship and society. It is so refreshing to hear a different and open conversation on manhood and sexuality. I get that the concept of "wait" and sex are very alien and almost blasphemous to some, trust me, I so so get it, but it's one of those books that is worth reading even as a thought experiment on hearing the other side of the argument, a lot of treasure in here.
"The first woman came from a man, and every man since has come from a woman"
4. The Smart Money Woman, by Arese Ugwu
My good friend Seun lent me this book which focuses on finances, in particular being female, millennial and managing your finances, though I think anyone could learn a lot from reading this. Based in Lagos, Nigeria, it follows the story of a woman and her friends (in a kind of Sex and The City-style format) who all have very different attitudes and backgrounds surrounding how they spend, make and invest their money. I loved being immersed in this world and honestly it made me rethink and reevaluate a lot of things. There are practical lessons contained within each chapter that are broken down at the end, from good debt, to bonds, diversifying your portfolio and more–this is an essential read on finances for every 20-something.
The Smart Money Woman
5. Shantaram, by Gregory David Roberts
Still in the midst of reading this one but had to put it on the list as it's quite incredible already. Based on the true story of the author who was an Australian fugitive (imprisoned for bank robbery and a heroin addiction) who upon escaping fled to India and ended up learning Hindi, Marathi and becoming a part of Mumbai gang. Apparently the manuscript was trashed twice by prison guards and he rewrote it from memory, which considering it is close to 1000 pages is no small feat! The style of his writing is beautiful and the level of detail is insane, you feel as if you are on a journey of discovery in Mumbai with him and his experiences detail a life lived to the max. I love the sense of being foreign and accepting that status with humility and not pride as you navigate a new place that is inherent in his writing. Apparently there have been disputes about the verity of the account but I've avoided reading much about the book until I'm finished, sometimes you just have to enjoy the experience for what it is. Shantaram is a study on humanity, urbanity and a really damn good read.
Shantaram
6. A New Model: What Confidence, Beauty & Power Look Like, by Ashley Graham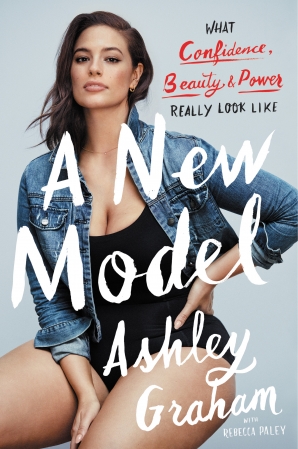 A New Model: What Confidence, Beauty, and Power Really Look Like
I was incredibly excited to get my hands on this part-memoir, part manifesto by Ashley Graham, and it didn't disappoint! I've been following her career for a while now and I love all that she stands for, her unashamed confidence and razor-sharp vision, she's also hilarious and brazenly funny. Having read and seen interviews with her about growing up and working within an extremely close-minded industry when it comes to body image and representation I knew that she had gone through struggles to reach the point she is at now in her career and mindset about her body. From the hyper-sexualisation of the curvy female body to abusive relationships, daddy issues, talking through divorce to thriving in marriage she is so raw, real and honest in this book and I for one can't thank her enough. So much more than just a book about being a model, the fashion industry and even body image, she speaks about the intersection between the female form, diversity, sexuality, power and self-worth in a way that makes you feel like you're having tea with your best friend. Learnt so much from this and passed it onto my bestie straight away! Must-read tbh.
Please let me know if you want to borrow any of these books, always more than happy to lend, some of them are already in circulation! (Bar Crazy Rich Asians, unfortunately that's on my Kindle)!